Zpět na všechny články
Thanks to all players for the professional behaviour
At first sight, it might seem strange why I express my thanks at the beginning of the second half of the tournament, however, it has its reasons. The scheme of tennis events is ruthless and only half of the players can make it to the next round of the tournaments, and the other half have to say their goodbyes.

Therefore, I would like to say my thanks to all the Prague Open 2020 participants before they leave Prague for their professional, responsible, and accommodating behaviour to unusual but necessary restrictions during these strange times. I am fully aware that many activities are more complex and less pleasant than during regular tournaments, however, we have not encountered a single complaint, reminder, or breakage of strict rules. I feel sorry that I cannot name every player, however, I can say that every single player, without exception, has fully respected a restricted movement, limited numbers of escorts and guests, a limited number of people in the gym, or in the tournament's transport. Furthermore, everyone has fully accepted the rules of mandatory COVID tests which take place every 5 days, nor no one in the club or restaurant moves chairs to other tables, which are according to strict rules adjusted for only two people.
Players from 23 countries take part in the Prague Open 2020 tournament with the highest seed and the second world ranked Simona Halep from Romania. Neither the star of the world sport has demanded any privileges or exceptions. Simona has fully accepted and respected all the strict rules and restrictions. Of course, all this also applies to home players. Petra Kvitova, a member of the organizing club, who did not participate, could not go to players' locker rooms, nor could not visit her friends in the club restaurant but she greeted the fans from the roof of the clubhouse in order to not break the set rules about the so- called 'players bubble.'
Wearing face masks is mandatory in places where it could come to social interaction. No one needs to remind anyone to wear the mask as well to disinfect hands with hand sanitizers. In addition to the joy and excitement that tennis is back, there is a sense of humility and responsibility in these extraordinary times at every step of the tournament. I hope we might be also a kind of lighthouse shining modestly in the sea, the rules and restrictions serve in order to make this tournament happen, and situation could go back to normal as soon as possible.
Unfortunately, the tournament is without spectators, but its inner energy is extremely strong. Since the middle of last week, the inner heart of the tournament has started to beat and its heart rate has been getting stronger every day. New strong personal ties are emerging here and a wave of common solidarity and belonging is rising.
Thanks again to everyone, thanks to whom everything has been working according to the set plans. I am proud that our current precise organizations, experiences, and knowledge contribute to making not only tennis but also other sports run around the world again, as we were all used to with a smile.
David Trunda, tournament director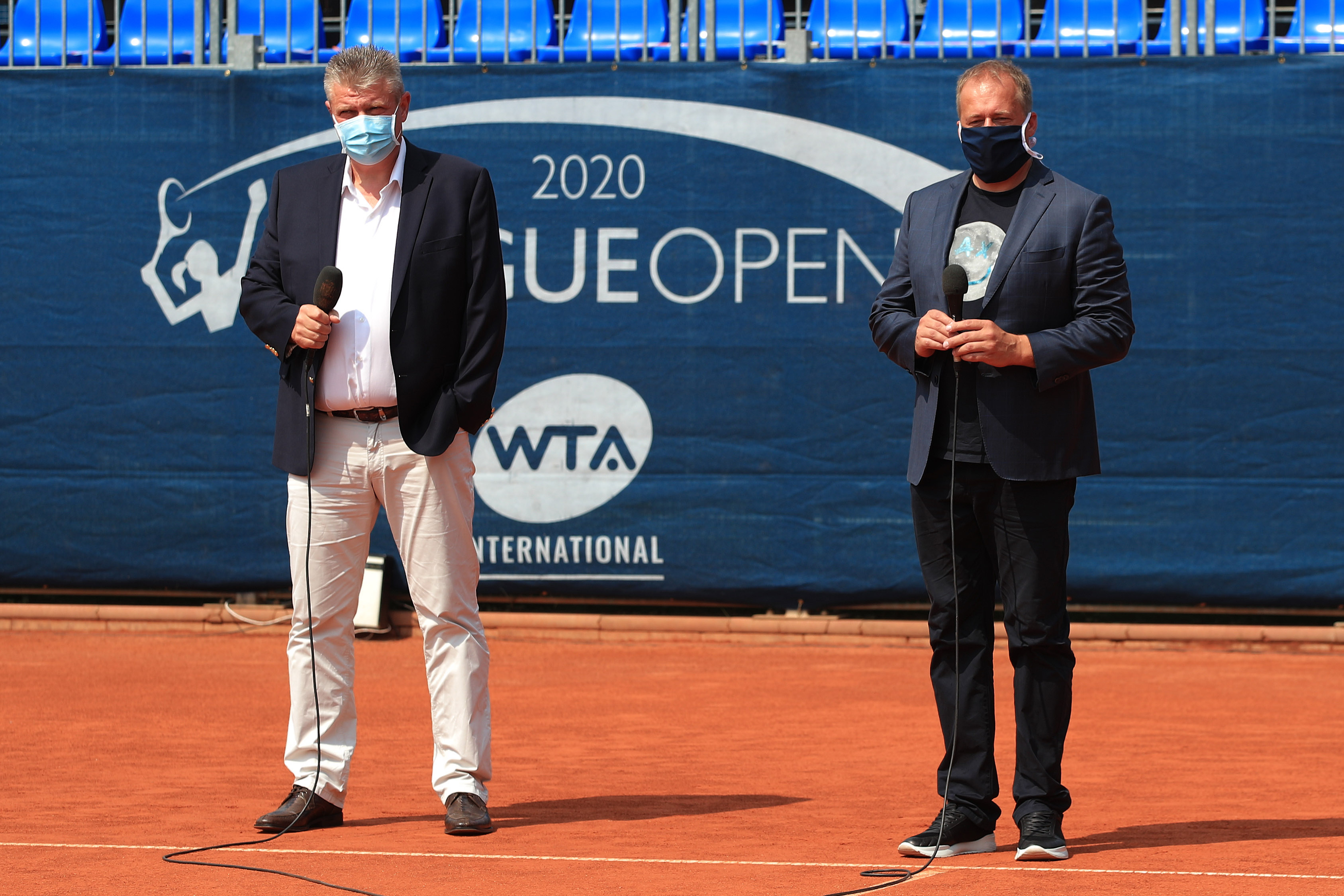 Tournament director David Trunda (right) at the opening ceremony of the Prague Open 2020 with Ivo Kaderka, the President of Czech Tennis Association (photo: TK SPARTA PRAHA/Pavel Lebeda (sport-pics.cz))
Autor: eSports
---